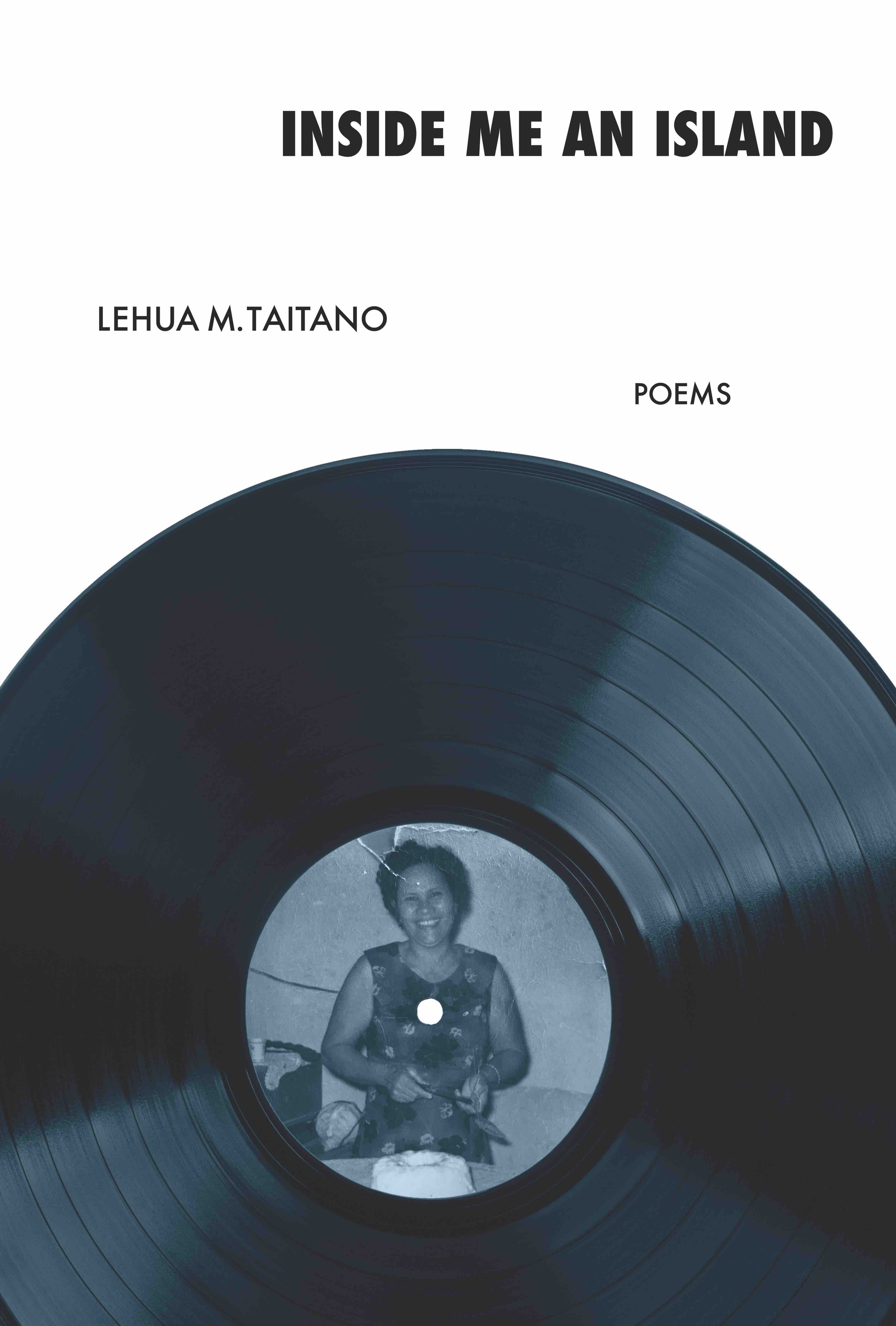 Inside Me an Island, by Lehua M. Taitano. Published by WordTech Editions, 2018. Available for purchase here.
From its outset, Lehua M. Taitano's Inside Me an Island (WordTech Editions, 2018) is relational, in conversation and co-formation with places and people, animals, plants, stones, and tides, through encounter, sensation, and memory. Following her first book of poetry A Bell Made of Stones (Tinfish, 2013), Taitano continues a figuring of diasporic life in which encounters can be violent and painful, while others are vital to sustaining and strengthening the 'liquid web connecting our beating hearts.' In this figuring, a poem is not confined to words on a page; it can emerge from and be channelled into embodied experiences, a trace in the sand, intricate and intimate assemblages formed between person and environment – 'windblown hair' and 'lemon-sticky wrists', 'fishbones, slings, feathers and offerings' and 'twig fires and heaped mounds of husks' – or a story shared from one indigenous culture to another. Taitano's poems inhabit and address a world that is constantly knotting and reknotting, 'netlessly'.
Taitano is a native Chamoru poet from Guåhan (Guam), who moved to the continental United States as a child. The collection's named and unnamed locations – from badlands in Montana and South Dakota to Lake Sonoma in California, from shoreline to university library to a kitchen window – are stitched into its ways of making sense. Always present, whether in the background or the foreground, is the 'island' of Taitano's title, Guåhan; as she writes in 'Sononma Prelude', '[t]o be from an island yet to exist off-island is to continually reconcile the waters.' Following the Organic Act of 1950, Guam is an 'unincorporated territory' of the United States. The book's opening exchange, 'Letter from an Island' and 'A Love Letter to the Chamoru People in the Twenty-first Century' sets out everyday forms of generosity, resilience, and kinship in the face of historical and ongoing colonial violence and its myriad, interconnected effects, from militarisation to the separation of families, from sexual violence to poverty to environmental degradation. The 'Love Letter' falls into the rhythm of a list poem whose repeated 'because' is tasked with carrying the contradictions of living in and against such violence, and here language itself becomes a key terrain of struggle:
'Because we cannot tread on pieces of our own land without clearance. Because we keep words like clearance and deployment and strategic and stationed in the bowl with our keys by the front door. Because we can count to a thousand in Spanish. Because we can count to the apocalypse in English.'
The proximity of the everyday and the catastrophic suggests the multiple ways that colonisation permeates living and the necessity of multiple forms of resistance in response. These forms of resistance are themselves not without tension, as Taitano suggests again a few lines later, 'Because I must write this to you in English.' Yet, along with a range of contemporary Chamoru poets writing (at least primarily) in English – Craig Santos Perez, Evelyn Flores, and Kisha Borja-Quichocho-Calvo, among others – Taitano opens up and puts pressure on the language, retooling it to index the struggles, creative energies, and intimacies of people 'shaped from stone | and | the pulsing | sea'.
After the initial exchange, the collection is divided into two sections: 'Ma'te (Low Tide)' and 'Hafnot (High Tide)'. Rather than polarities, these sections offer variation and movement, a back and forth akin to Kamau Brathwaite's 'tidalectics' suggesting shifts and contrasts at the level of rhythm as well as content. The poems make use of multiple registers: language directed at and overheard by the author, quiet yet intensive descriptions, poems poised at the edge of myth or song, dark humour.
Instead of clearly defined objects, Taitano gives us motions and shapes, convexities and concavities suggestive of the contact points or interfaces between entities and emotions. In 'One Way to Predict the Future', for instance, she writes: 'There is a time of night when all of our sounds become animal. | When the threshold of sorrows shaves even | with woodcurl pleasure'. In 'Your Distraction was Mechanism', she describes '[s]earching the grain spaces' for 'crayfish leavings, a burrow excavated in spheres', an understated but profoundly attentive kind of '[s]low love'. 'Low Mountain Lake Song' hovers on edges and curves: 'Summer's hem. The moon, a swelling. Too, bullfrog throats, vibrating across the slick green bay. Full low like a plump lip jug pressing. At night, this side of things is settled without the memory of ache.' Yet the collection continually unsettles itself too. In 'A Night Crowded With Night', 'I am saying I have heard the pitch of spectral aching rife with an immeasurable absence of marrow, the pulse and echo gone so long that time has plowed its memory into earth.' Taitano's continual engagement with the land brings close interconnections, sources of joy, but also bears deep trauma that persists across the bodies and collective consciousness of its inhabitants.
The collection is at its most striking and energetic in explicit moments of conversation and collaborative storytelling. 'Come Sit Around This Stone' powers through fragments of tales of police brutality, Harriet Tubman, and Prince songs told with a range of other poets at the Kuwentuhan (storytelling/talkstory in Tagalog) event organised by Filipina-American poet Barbara Jane Reyes. 'One Kind of Hunger' retells a story Taitano was told her by her friend from the Seneca nation in Turtle Island. Attempting to summarise the story here would not do justice to its nuances and particular ways of telling (you can see it online in POETRY magazine here), but, crucially, the story creates the conditions for another story; a boy gives up the birds he had caught for his grandmother to a stone in exchange for another tale. Taitano writes: 'The sun has given the stone a mouth. With it, she sings of what has been lost. | She sings and sings and sings.' The song, the story, and the poem fold back on themselves, through the entangled relations of reciprocal need.
This multi-layered, passed-on story is an instance of what Nishnaabeg scholar and writer Leanne Betasamosake Simpson calls Indigenous internationalism, as 'a series of radiating relationships with plant nations, animal nations, insects, bodies of water, air, soil, and spiritual beings in addition to the Indigenous nations with whom we share parts of our territory.'1 Simpson is careful to point out that this internationalism takes place within the specific land-based practices, knowledge and ethics systems of indigenous peoples; different peoples will have different ways of relating. 'One Kind of Hunger' puts such relation in motion, as a way of sharing, translating, and singing 'loss' but also interdependence. This points to a wider quality of Taitano's work; a poem cannot simply be taken, something must be given (up) in return.
This more active mode of engagement is encouraged by what Taitano calls 'somatic poems', poems whose titles are directions for writing exercises. For example 'Create a sibling, a counterpart to your shale-flaked centerself, a blood-bound projection to visit you upon the lonely scree' and 'Retrace the landscape, where you have sieved earth for stones or scent alone.' As Taitano writes in the notes at the end of the book, these directions are 'designed to be accessible to any person, regardless of the nature or condition of their bodies', opening up possibilities for dialogue and response beyond the book's pages. While not determining potential responses, the evocative titles of the somatic poems invite forms of subjectivity and embodiment in relation to place that fundamentally challenge ideas of a fixed or bounded self. In 'Retrace the landscape', for instance, the speaker and her companion attend closely to a 'patch of grass' and its inhabitants through seen and unseen traces: the marks left by a vole burrowing into the earth, the unnoticed signs of a dying dog, the intimate gestures of 'pronunciation, movement, women's solace' in the kitchen at the end of the day. Paying attention to the details of how '[a] creature shapes its way' also opens up perception beyond the visual: the vole 'feels the hem of wind on its back, the light shaft prick. It senses hawk claw, coyote stamp. It perseveres in its must', while the speaker gathers up the multisensory and multispecies details of the landscape into 'density's bundle'.
At home in the UK, I think about how I would respond to Taitano's prompt. I go out for a walk to think about Taitano's poetry, retrace a route I have walked for years, with family and friends and alone. Coming to a field with a single oak tree at its centre, I notice how dry the earth is already; it's only just spring but unseasonably warm. I circle the tree once, as I always do, place my hand on its ridged bark. Perched in the tops of the trees along the bottom of the field, as they always are, crows shout and caw, their nests still visible where the trees haven't yet filled out with leaves. The sounds punctuate my thinking. I turn back to Taitano's 'Love Letter': 'Because our crow song has vanished. Because our trees are blighted. Because our reefs are targets. Because we are always in the path of military maneuvers. Because I must write this to you in English.' Across distance, difference, and relation, structures of violence and everyday intimacies, Inside Me an Island both demands and enables attentive, reflexive, kinds of listening and response.
1 Leanne Betasamosake Simpson, As We Have Always Done: Indigenous Freedom Through Radical Resistance (Minneapolis: University of Minnesota Press, 2017), p. 58.
Katy Lewis Hood is a poet and PhD student living in London and researching queer-feminist and decolonial approaches to environmental change in poetry and art. She edits amberflora with Pratyusha.